As the summer season kicks off, plans are being made for some of Oscoda's most popular events. Throughout the season, our region attracts visitors to take part in a wide variety of exciting annual events and activities. There is certainly something for everyone! Plan your next visit around one of these great events to take part in the flavors and sounds of the season.
Art on the Beach – June 24 -25
For over thirty-five years this art show has attracted talent from around the region to show their handmade arts, crafts, and hobbies.  Only original artwork and items are featured and are not for resale.  Enjoy this popular event highlighting the creativity of regional artisans on the lakeshore at Oscoda Beach Park.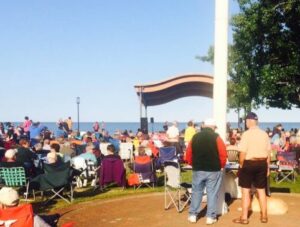 Oscoda Rotary Bandshell Free Concert Thursdays at 7:00 pm, July 6 through August 31
Oscoda Rotary Band Shell, located at Oscoda Beach Park, welcomes you to enjoy FREE live music every Thursday evening. Imagine yourself relaxing in your beach chair or reclined on a blanket listening to great live music on the shore of beautiful Lake Huron. What could be better? Follow the Rotary Club on Facebook for schedule announcements.
Movies by the Pier – Free Event on Wednesdays in July & August
One of Oscoda's most popular summertime features for families is the Summer Movie Series. Every Wednesday night in July & August, make your way to Oscoda Beach Park at dusk to spread out your beach blanket and enjoy free movies right on the beach! Follow our Facebook page for movie schedule announcements.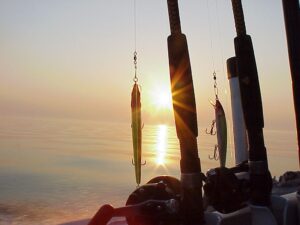 Michigan Walleye Tour Tournament – July 16 -17
The Michigan Walleye Tour comes to Oscoda in July. Since 1995, this tournament has supported youth fishing programs and scholarships for students pursuing education in the fields of natural resources and law enforcement. This event provides top anglers an arena in which to compete and to spread knowledge to the fishing public. Learn more and register for this event on the Tour website.
AuSable River Canoe Marathon – July 29 -30
Over the last 75 years, the AuSable River Canoe Marathon has grown to become one of the premier canoe races in the world. This 120-mile race begins in Grayling and is non-stop paddling all the way to Oscoda. Whether you are ready to register to participate or just want to come and watch all of the excitement, you can find the details on the Marathon website.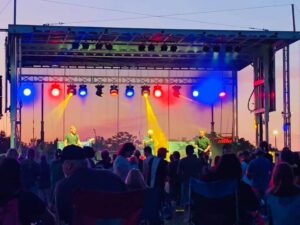 Oscoda Rockfest – September 9
Oscoda Rockfest has become a popular attraction for both local and visiting music lovers. Since 2019, this annual event attracts well-known regional and national rock bands to its stage. Proceeds from this event are provided to the Veteran Memorial Park Fund to support their work in building amazing features on the old Wurtsmith Air Force Base. Order your tickets today!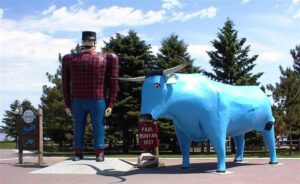 Annual Paul Bunyan Days Festival – Sept 15-17
As a nod to Oscoda's rich history in the lumber industry, each year, the Paul Bunyan Days Festival is held at Furtaw Field in honor of the legendary lumberjack of the Midwest, Paul Bunyan. The festival features a full weekend of chainsaw carving, fun games, music, crafters and demonstrations, an auction, and great food.
Bigfoot Bash – September 29-30
Oscoda hosts its first Bigfoot event in 2023 with the introduction of the Bigfoot Bash. This family event features an expert panel of speakers: Matt Moneymaker (Finding Bigfoot President, Bigfoot Research Organization), Dr. Jeff Meldrum (Researcher/Author, Professor of Anthropology), and Cliff Barackman (Finding Bigfoot/North American Bigfoot Center). Join us for fun and intrigue with a hike in the Huron National Forest, 75 booth expo, crafts for kids.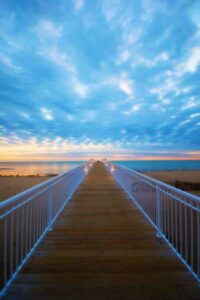 Plan your trip to Oscoda this around one of these great events held throughout the summer months and beyond. We are lucky to have such dedicated volunteers that work hard to plan entertainment and activities for the enjoyment of locals and visitors of all ages. So, make your way to Oscoda for great outdoor adventure, relaxation on the lakeshore, and a summertime event that is sure to delight!