The weird year that is 2020 finally draws to a close, and we're excited to see what the new year brings. At the same time, we're looking back at all the wonderful things that happened in Oscoda this year!
1. MOVIES NIGHTS AT THE PIER
An Oscoda tradition, Movie Nights at the Pier returned in 2020 to entertain adults and children alike. Movies like A Dog's Journey, Avengers Endgame, and Onward were shown for free at Oscoda Township Beach at dusk. This is always a fan favorite event that occurs throughout the summer!
2. HIKING AND SKIING TRAILS
This year's pandemic and resulting quarantine prevented people from attending many gatherings and indoor events. A safer alternative that many people took (and continue to take) advantage of is the series of trails that the Oscoda area offers. Corsair Trails, Highbanks, and Eagle Run are a few examples of the beautiful nature trails that have provided people with an escape.
3. THE AUSABLE RIVER
Another socially-distanced outdoor activity that lots of people did this year: going down the AuSable river! Whether tubing, kayaking, or canoeing, river-goers enjoyed the cool water, warm sun, and tranquil woods.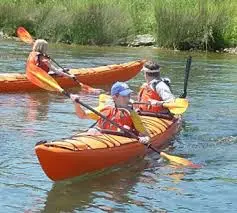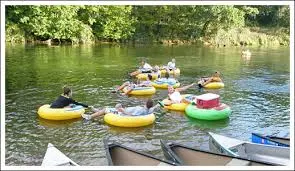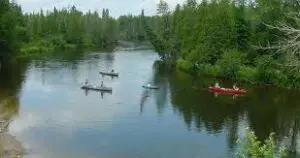 4. IOSCO EXPLORATION TRAIL
A portion of this new bike trail was constructed along the River Road Scenic Byway this year. The Iosco Exploration Trail is part of the larger Michigan Iron Belle Trail, which will extend all the way from Detroit to the most western portions of the Upper Peninsula when completed. The parts already constructed are perfect for scenic biking and have been used by many a biker in 2020.
5. SPACEPORT
Another exciting new endeavor for Oscoda is the spaceport at Wurtsmith. This year, Wurtsmith was confirmed as the desired location for a horizontal-launch spaceport. That means we might be seeing satellites launched into space from Oscoda as soon as 2023! Plans for construction on a multi-million dollar hangar at the base (designed to be able to hold almost any type of military or commercial plane!) are already underway.
6. ARTS AND CRAFTS SHOWS
Blue Ribbon Events put on three events in Oscoda this year, each getting bigger and better. The first was a charming arts and crafts show on Furtaw Field in July. The second was a larger arts and crafts show called Flights on the Beach. On top of having multiple booths of artwork of different types and styles, this event had its namesake: flights of beer that a person could enjoy on (or within sight of) the beach!
7. PUMPKINS IN THE PARK
The third Blue Ribbon Events event was Pumpkins in the Park. This event was host to a number of things. There was a chili cookoff where people could take small grab-and-go samples of all different types of delicious chili. There were arts and crafts booths, with both local artists and out-of-state craftspeople. And, of course, there was a pumpkin carving contest! This event was well-attended, and the location was spacious enough to accommodate everyone safely.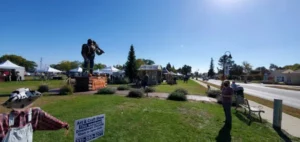 8. RESTAURANTS
As we're all aware, this pandemic has had a drastic impact on restaurants all over the country. Oscoda restaurants adapted to the changes that came with quarantine and provided quality food and deals to local residents and tourists. Wiltse's Brew Pub, Hilltop Bar, The Office Lounge and Grill, and Tait's Bill of Fare were all open for business. The Bavarian Bakery was too, with mouth-watering pastries like donuts (that I can personally attest to!). Under new ownership, Edelweiss Tavern revamped their menu to add more delicious food items on top of their already phenomenal drink selections. Mancino's continued with their great barbeque take-out and hosted free pizza days throughout the pandemic.
9. NEW BUSINESSES
This year saw multiple notable additions to Oscoda's restaurant and business offerings. Dudley's Diner is a great new breakfast and burgers restaurant. The Red Fork in Greenbush (just north of Oscoda) has new owners hard at work getting ready to open, with a mission statement of having "you leave feeling not only full, but like part of [their] family". And for the art enthusiasts, To the Moon and Back is a soon-to-be-opening store in downtown Oscoda that will showcase and sell local artists' wares. We love what we've already seen in 2020 and can't wait to see where they go in 2021!
10. THE MASTER WALLEYE CIRCUIT TOURNAMENT
Originally scheduled for a different location and a different month, Michigan's 2020 MWC Tournament took place at the AuSable Harbor of Refuge. People from multiple states traveled to Oscoda/AuSable to compete in this two-day event. As many Anglers will tell you, Oscoda/AuSable is a prime location for walleye in July/August, and for the first time, the 2021 Bass Pro Shops and Cabela's National Team Championship will be held in AuSable!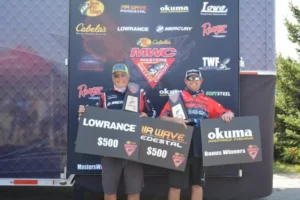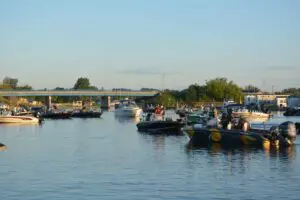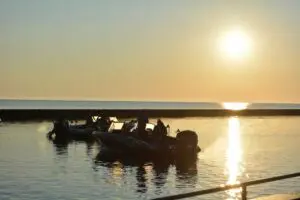 That's our list! If you love Oscoda too, what was your favorite thing in 2020? If you haven't yet been, what are you most looking forward to in 2021? Let us know by tweeting at us @MichiganTourism!