by Suzanne Wdowik
October in Oscoda offers those days that are simply perfect. The sky is clear, the air is cool and crisp, and the sun is bright. These are the days when Oscoda's trails are the most enticing. They offer a break from work and life stress, if only for an hour or two; as the poet Robert Frost says, "I'd like to get away from earth awhile/ And then come back to it and begin over."
So, on such an autumn day, my parents and I took our dog and drove to Lumberman's Monument to spend a day on the Highbanks Trail. Highbanks weaves around the AuSable River for miles, living up to its name by rising above the shimmering water. Lumberman's Monument is nestled in the middle of the trail, and it overlooks a portion of the AuSable that looks more like a glistening lake than a river; because of Cooke Dam to the east, this part of the river is a wide and gentle pond. The far end of the river peeks out behind an island that is, on a day such as this, speckled with reds and oranges and golds.
Visiting the monument was not an original idea. Some people came with families, some came with a dog or two, and some came alone. The spacious area allowed for everyone to observe the 14-foot-tall lumbermen statue, use the picnic tables, and enjoy the picturesque view while still socially distancing. My family and I circled around the visitor's center and stepped foot on the east branch of the Highbanks Trail. Fall foliage was just past peak, so warm colors were splashed across the branches and the ground alike. It was as if we had walked right into a book of Robert Frost poetry. "Two roads diverged in a yellow wood…" and which one would we end up taking?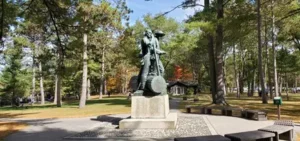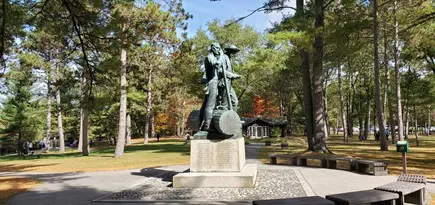 The Highbanks Trail winds around trees and ravines, sloping gently up and down. Our destination two miles down the path was Canoer's Memorial, a monument honoring the annual AuSable River Canoe Marathon that spans 120 miles and ends right here in Oscoda. We hiked the trail slowly and steadily, taking the time to appreciate the ever-changing views of the river. The pines and oaks hug the trail and then periodically disperse, granting glimpses of the AuSable as it meanders through the Huron National Forest.
There were many spots along the trail where we could step to the side and rest for a moment while observing the river. Each of these spots is like a mini viewing booth, perfect for taking pictures or just relaxing with a snack and a beautiful overlook. Our dog was particularly fond of these areas, sniffing them out and tugging us towards the AuSable, even though she couldn't see the fiery reds of the trees that we were admiring across the river. Sand dunes also line the banks, some cutting a sunny-yellow streak on the far side, some descending from the Highbanks trail itself. Particularly ambitious hikers might attempt these challenging slopes, but my family and I were content to admire them and then move along.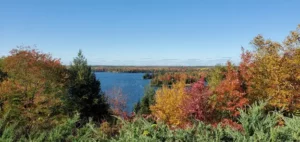 At one particular natural lookout, we were greeted by a large swath of gold that adorned the far shore. Another Frost quote comes to mind. "So dawn goes down to day./ Nothing gold can stay." I'm pretty sure he meant this in a metaphorical "no good or beautiful thing lasts forever" way, but doesn't this also apply to the literally golden leaves of trees in autumn? Fall foliage is so beautiful in part because it's a temporary thing. The leaves that have been different shades of green for so long suddenly reveal their true colors for a week, maybe two weeks, and then they are gone. The Highbanks Trail looks one way in spring, a different way in summer, and a very different way in the fall. Even week to week offers new sights and new colors.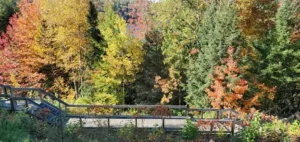 We reached Canoer's Memorial in high spirits. We rested on its stone wall for a moment. Next to the monument, there was a solitary red tree clinging to its leaves. It was as if it had waited for us to see its beauty before finally dropping its leaves and settling in for the winter. We fed the dog, drank some water, and looked out over the slopes.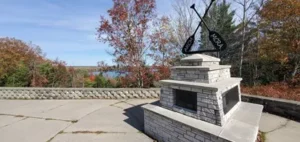 Eventually, we turned back and retraced our steps. We admired trees we'd missed on the way there, took a couple of breaks and a few more pictures, and said hello to fellow hikers as they passed. Lumberman's Monument greeted us on our return, and we spent one last moment at the overlook before returning home.
We drove home happy. You see, you take a little bit of the trail with you — its beauty, the fresh air, the feeling of tranquility. One more Frost quote for the road: "Earth's the right place for love:/ I don't know where it's likely to go better". We can't spend our whole lives on a hiking trail in autumn, but a good walk for an hour or two with people you love can reinvigorate you and remind you of the beauty in simple things.
ROBERT FROST POEMS CITED
"Birches"
"The Road Not Taken"
"Nothing Gold Can Stay"