Bravata's Restorations Brings Nostalgia to Oscoda
Travel is nothing new for Jessica and Jason Bravata.
The couple traveled full-time in an RV for five years before settling down in Oscoda.
"We used to live in Hudsonville," Jessica said. "But my mom moved to Oscoda and we ended up following, from one lake to another."
The couple never planned to open a business, but in addition to travel, Jason has classic car restoration in his blood.
"My dad owned a restoration shop, so I was basically raised there, along with street racing and drag cars," Jason said. "My dad, my uncle, my brother — just generations of it."
The couple obtained the building at 5239 U.S.-23 in Oscoda to give Jason room to work.
"But before we knew it, everyone was stopping by," Jessica said. "I don't know how it happened. It just did."
Since opening, Jessica has started organizing a summer series, called Nostalgia Night.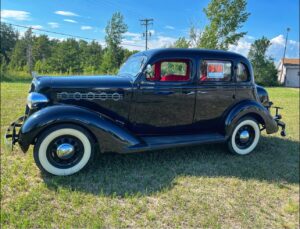 "I picked the busiest weekend dates and it's basically a hangout for local hot rod-ers to come out and show their love and meet other people and talk to other people," she said. "So far, it's been really good. I think our first event had over 75 hot rod-ers come out, and I guess it was a really big deal for Oscoda, because they don't really have this here."
Jessica, Jason, and their four daughters are still getting used to the area, where their family settled in January 2021 — but there's plenty to love.
"I'm an adventurer by heart, so being in northern Michigan in general, and the lakeshore itself, with the hiking, that's my big thing," Jessica said. "When we traveled, all we did was hike."
For Jason, the job isn't about the money. It's about the love.
"A typical restoration takes a year or so," he said. "It's a process. Most of these people with these cars, it's a family car. It's not necessarily about the value of money, it's more sentimental value."
Visiting town? Bravata's next classic car show is Saturday, Sept 3, and will include barbecue and live music. Learn more at facebook.com/BravataUS23.