Oscoda might seem like a summer place, but particularly in the fall, the locals hail their Donut King: Scott Parent, who recently celebrated his eightieth birthday at his Greenbush business Cedar Lake Grocery.
The convenience store and treat shop is located at 3448 S. U.S.-23, along one of Michigan's most scenic routes. While the business carries the usual garb and munchies — T-shirts, beer and milk — it's best known for caramel apples, deli sandwiches and — you guessed it — donuts.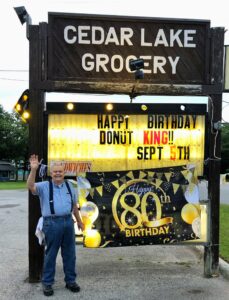 "We've been here for 35 years," Scott said. "We have donuts every Saturday and Sunday, all year-round, and on holidays, if they fall on Friday or Monday. It's usually from 8-11 a.m. each day."
The cake donuts are made-in house, with chocolate and vanilla frosting, sprinkles, coconut or cinnamon. But in the fall months, apple cinnamon donuts and caramel apples hit the shelves, and Scott and his staff find themselves making 40 or 50 dozen a day.
"We'll probably start the first weekend of October for cinnamon donuts," Scott said. 
Even on slower weekends, the team will make 20 or 30 dozen donuts a day.
"We do the best we can," Scott said. 
His fans agree. Wrote one reviewer in February 2021: "We stopped in this morning for the famous donuts we've heard so much about. Everyone was right. They are delicious! We were so excited to try them that we ate the warm ones right there in the lot! We will definitely be back."
And just two months ago: "Best donuts ever — waited about 45 minutes in line for them. Not easy being the best and having the best. …If you want them on a holiday weekend, better get there early."
Cedar Lake Grocery is currently open 8 a.m.-8 p.m. Sundays, 9 a.m.-8 p.m. Mondays-Fridays and 8 a.m.-9 p.m. Saturdays. Learn more at Cedar Lake Grocery on Facebook.