Enjoy the First Annual Oscoda Art Walk this Summer
There are plenty of things to see and do in Oscoda, particularly during the summer months — but something new has entered the fold this year: The Oscoda Art Walk.
"We just wanted to be able to create an art district, and we were thinking it'd be really cool to have movable or put-in-the-ground pedestals that we can shift each year," said organizer Lain Mackenzie, owner of To The Moon and Back in downtown Oscoda.
"We thought that would be a good start, getting things going in a cost-effective way, as opposed to trying to get all these big pieces of art out there."
Visitors can start anywhere in the downtown district, though a map is available at oscodatownshipeic.com/art-walk/. This year's theme was "Take Flight."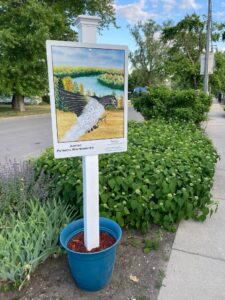 "All of the artwork is something we could reprint on those pedestals," Mackenzie said. "There's a lot of different pictures of birds in flight, a bicycle, a picture of a girl coming toward you on a swing, one with a car. We wanted artists to use our natural resources as inspiration."
In total, this year's Art Walk has 23 pedestals, three banners and a mural on To The Moon and Back.
"That's what got me interested," Mackenzie said. "I was like, hey, I've got a business. I'd love to figure out how to help."
The event officially began in late June with an art show reception at the Huron Shores Artisan Hall, where original artwork will be available for purchase until August 22. The pedestals themselves will stay outside until the snow flies, Mackenzie said.
"We wanted to get people off U.S.-23 and into the downtown area," she added. "We're in a key placement and we want to drive business down here when they see something really beautiful. At the end of the day, we just want people to be able to enjoy art, the local artists to get accolades and to bring in those people who drive by."