Visiting Oscoda? Pop into one of northeast Michigan's oldest bars
There are plenty of things to see and do in Oscoda — but when you're ready to kick back, relax and have a beer, there's Hilltop Bar and Grill.
Hilltop, according to its newest owner, Miles Schmidt, is perhaps the oldest bar in northeast Michigan. It's been in the same place since 1884.
"It's been added on, changed a lot, had a few different owners," said manager Kolina Backstrom. "The best thing, I'd say, is our staff. We don't have a lot of turnaround, everyone works well together, the food is amazing — it's just a good, small town hangout."
The restaurant and bar at 431 W. Mill St. in Oscoda recently changed hands. 
"I was talking to the previous owner," Schmidt said. "We're friends, and I'd worked here before — I'd bartended in the past — but that was some time ago. Anyway, I was talking to the owner back in March and he said he was thinking of selling the bar, but he wasn't going to list it.
"About a week later, I was sitting here thinking, 'Well, what the heck?' I called him and said I might be interested. And here I am, six months later."
The food at Hilltop is both delicious and — the locals love to say — affordable.
"Our burgers are the number-one seller," Backstrom said. "The reuben is also a big seller. We do a great blue gill on Friday nights and prime rib on Saturday nights."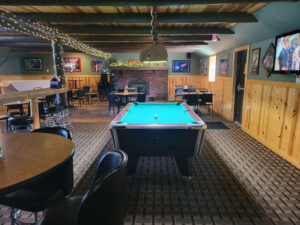 The business works hard to stay involved in the community.
"We help a lot of sporting teams at the high school, we do sponsorships, a lot of them have us cater their parties or banquets," Backstrom said. "When local families are having problems, we try to support them however we can. It's great staff, great food and a fun environment."
Hilltop is open 11 a.m.-11 p.m. Tuesdays-Thursdays, 11 a.m.-12 a.m. Fridays-Saturdays and 12-10 p.m. Sundays.
"It's a wonderful place," Schmidt said. "Come see us."