Oscoda's best trails for winter hiking, snowshoeing and skiing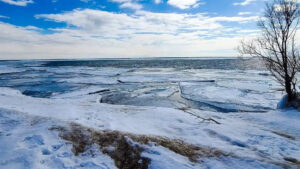 An ice formation seen from Sandy Hook Trail in Tawas Point State Park. [Courtesy/Shannone Bondie]
by Cassandra Lybrink
When you think of visiting the Oscoda area, you might picture summertime — lounging on the beach, skipping rocks, swimming, barbecues and fireworks. These are certainly some of our favorite things to do near the Au Sable River and Lake Huron; but did you know Oscoda is also home to some of the best trails in the state for cross-country skiing, snowshoeing and winter hikes?
Here are four of our highly-recommended spots to visit this winter:
Highbanks River Trail
For Shannone Bondie, a former resident of East Tawas and brand new resident of Oscoda, the best place for a winter hike is the Highbanks River Trail, most often accessed at Lumberman's Monument, 5401 Monument Road.
"There's a lot of overlooks," Bondie said. "And, in the winter, a lot of the leaves on the trees are gone and you can see even more of the water. It's great for walking, but you should be prepared to break the trail if no one has been there before you. It's not groomed. I've broken the trail before and the snow has been up to my knees, and it's kind of fun! I've seen snowshoe tracks, too, but I've never done it."
The seven-mile hike trails along the bluffs of the Au Sable River, providing some of the most dramatic views. Hikers and skiers can look over the river valley and — in some cases — catch glimpses almost to Lake Huron.
The trail begins 15 miles outside of Oscoda, with access and parking at Lumberman's Monument, Sid Town and Iargo Springs. Learn more here.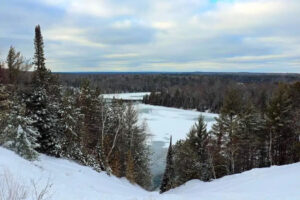 The Champagne Hill/Foot Pond Overlook along the Highbanks Trail in Oscoda. [Courtesy/Shannone Bondie]
Eagle Run Cross-Country Ski and Hiking Trail
Skiers will find a haven at Eagle Run, which travels along the south shore of the Au Sable. The looped trail is great for cross-country skiing and winter hikes, with scenic views of the river and serene quiet.
"There's three different loops you can choose," Bondie said. "I choose the one that follows the river closest, so I get more great views." 
The trail is maintained with the support of volunteers. Access can be found on E. River Road across from Oscoda High School. Learn more here.
Corsair Hiking and Cross-Country Skiing Trail
Serious skiers and hikers will find a range of terrain at Corsair Trail, which shifts from gentle to somewhat hilly. The most challenging portion begins at Wrights Lake Trailhead, with longer loops and steeper hills. The Silver Valley Trailhead marks an easier ride, with fewer hills and two bridge crossings.
The one-way trail stretches 28.3 miles, and each trail is marked with blue diamond-shaped markers. The trail is hard-packed, groomed snow throughout the winter. Trailheads can be found near the intersection of Monument Road and Tuttle Road. Learn more here.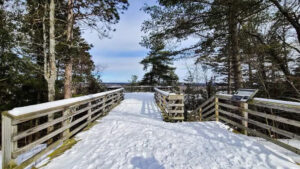 A walkway along the Highbanks Trail near Iargo Springs. [Courtesy/Shannone Bondie]
Sandy Hook Nature Trail
Having come to Oscoda from East Tawas, Bondie highly recommends visiting Tawas Point State Park for winter hikes, located at 686 Tawas Beach Road. The Sandy Hook Nature Trail, she said, is beautiful in the wintertime.
"You can see blue ice formations and it's really great," she said. "It's definitely a bit windy and colder because there are less trees, but I still recommend it."
Sandy Hook is Tawas Point State Park's only trail and explores the two-mile spit that separates Tawas Bay from Lake Huron. The tip of the point holds wetlands, small dunes and beach. Learn more here.