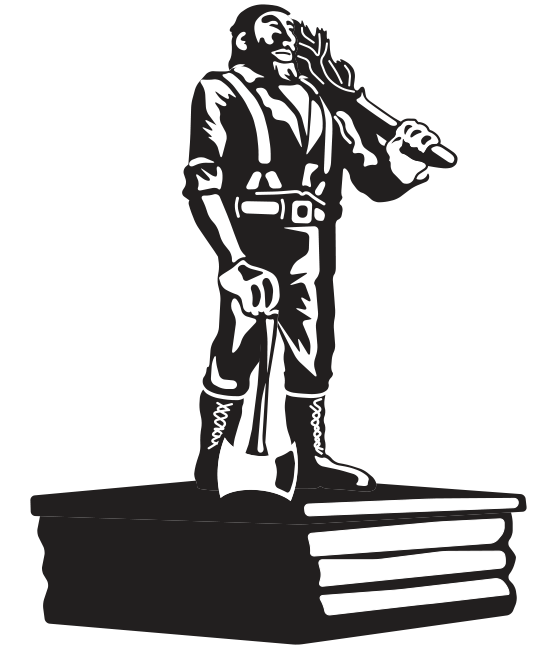 Lake Huron, the AuSable River, and the numerous inland lakes of the Oscoda region provide one of the most diverse and beautiful locations in our state for fishing, boating, canoeing, kayaking or just enjoying a day at the beach.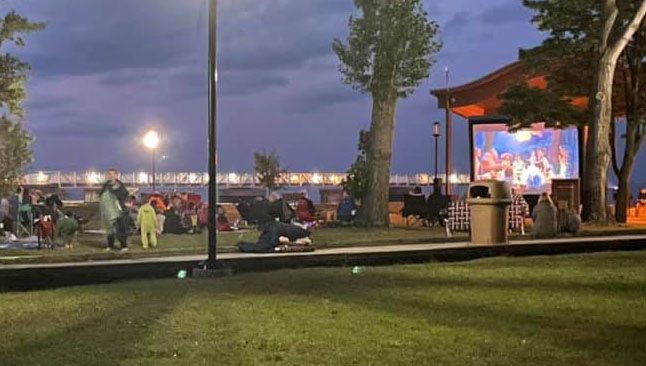 MOVIES BY THE PIER
One of Oscoda's most popular summertime features is our Summer Movie Series. Every Wednesday night in July & August your family is welcome to join our community at Oscoda Beach Park to spread out your beach blanket and enjoy free movies right on the beach!
Make your way to Oscoda Beach Park at dusk, bring your lawn chairs or blankets and sit back and enjoy a family friendly movie. For more information about the movies call 989.739.0900 or follow our Facebook page for movie title announcements.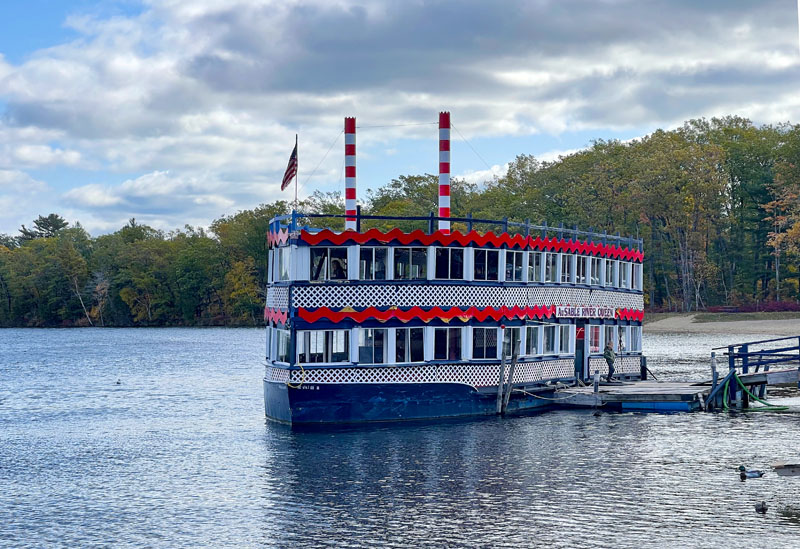 AU SABLE RIVER QUEEN
The AuSable River Queen is a paddle-wheel river boat that harkens memories of the past. A great time for family members of any age, the River Queen is a popular attraction from summer through fall. It is a perfect way to take in the stunning fall colors along the banks of the river. Enjoy a snack bar while on board and live music on the weekends.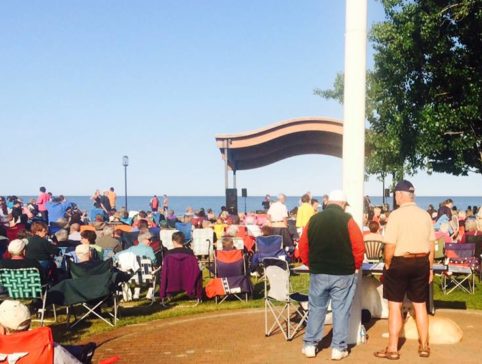 OSCODA ROTARY BANDSHELL
From the end of June through the middle of August, make your way to the Oscoda Rotary Band Shell located at Oscoda Beach Park to enjoy FREE concerts every Thursday evening at 7pm.
Bring your beach chair or spread out a blanket and listen to live music on the shore of beautiful Lake Huron. Call 989.739.0900 for more information.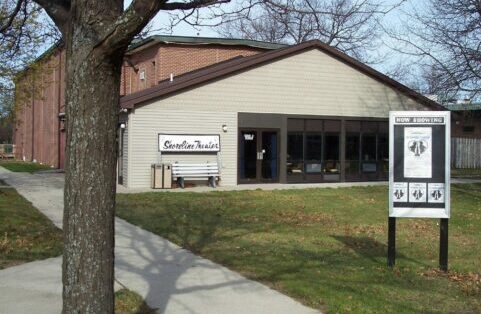 SHORELINE PLAYERS THEATER
Shoreline Players was established in 1973 and has been entertaining local audiences and visitors alike. Talented area artists perform live dramas, comedys, musicals and variety shows.
This theater offers a taste of our local culture and you are sure to be charmed by the efforts of the players.
Shoreline Players Theater has universal accessibility with all seating at ground floor. Call 989.739.3586 for information.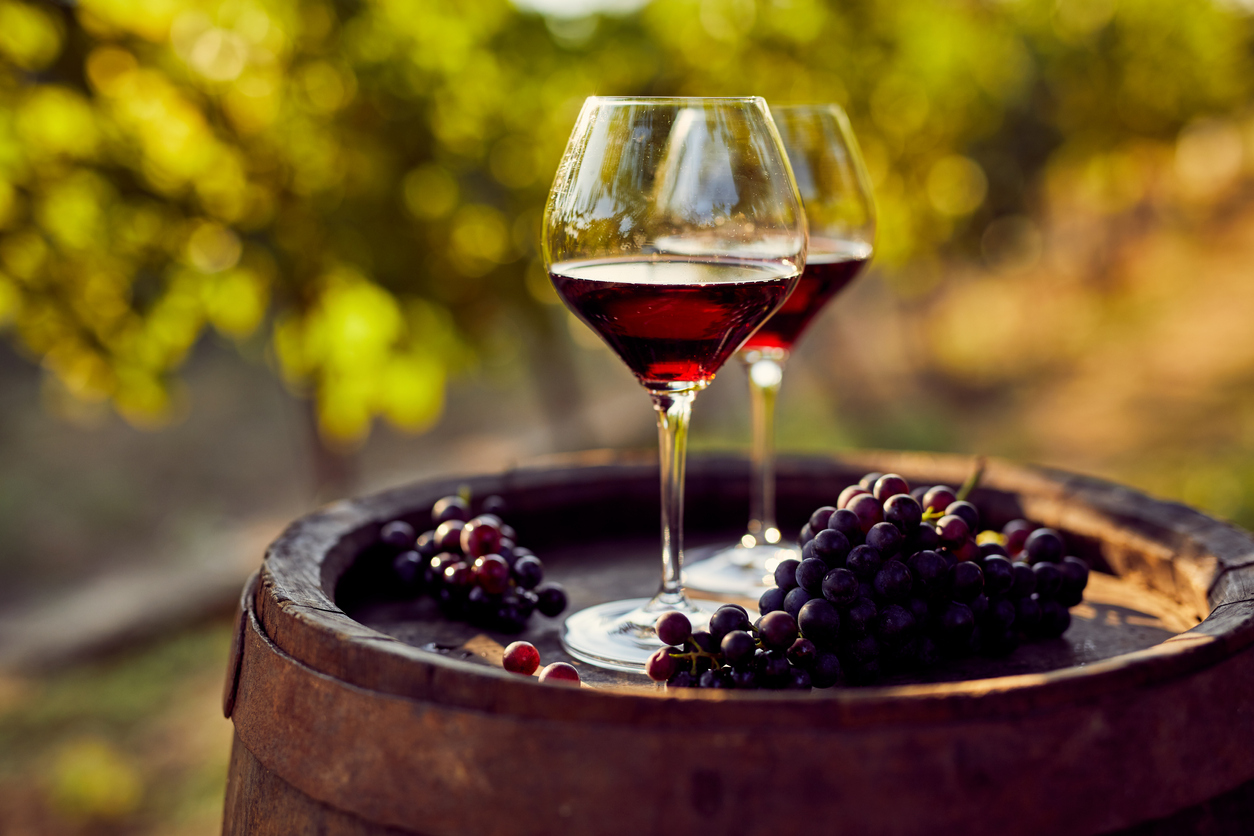 SUNRISE SIDE WINE & HOPS TRAIL
Following the US 23 Hertiage Route north, the Sunrise Side Wine & Hops Tour features 8 wineries and 4 breweries providing you with a taste of Michigan's finest.
Enjoy beautiful views of the lakeshore and nautral scenery as you wind north on this trail. You will find quaint small towns with local eateries and speciality shops all along the way.
This tour is a great way to enjoy the spring splendor of our region!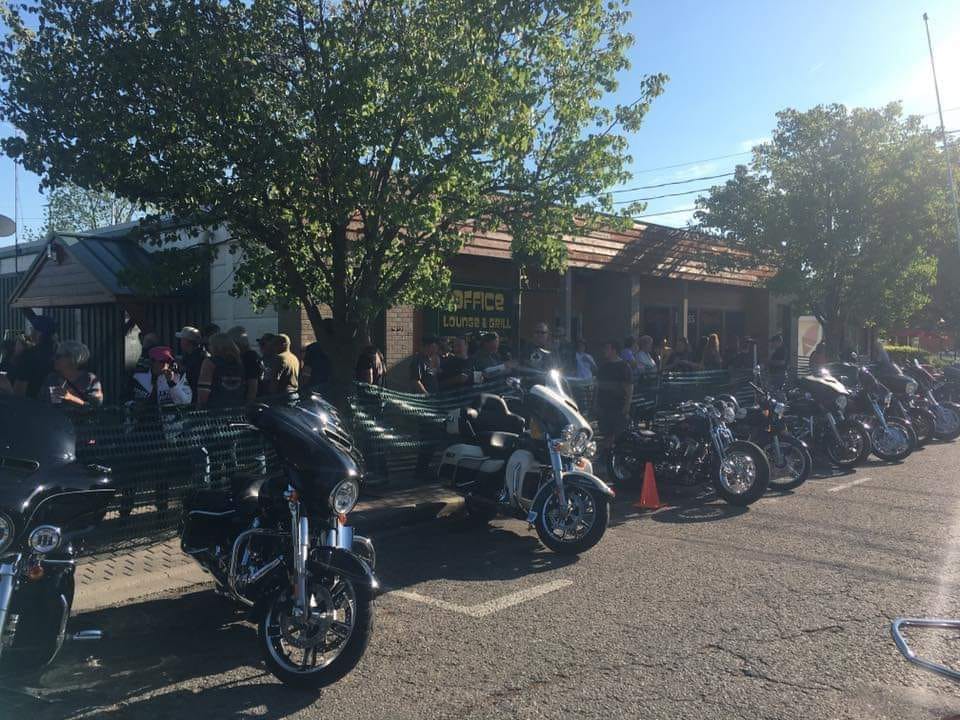 THURSDAY NIGHT BIKE NITE
Motorcycle enthusiasts unite! Beginning in the month of June, the Office Lounge & Grill hosts Bike Nite each Thursday, featuring food specials and music by DJ Joe. Bike assemble on Dwight Street in front of the Office Bar & Lounge. The street is closed for designated bike parking only.
Please call (989) 739-8833 for more information.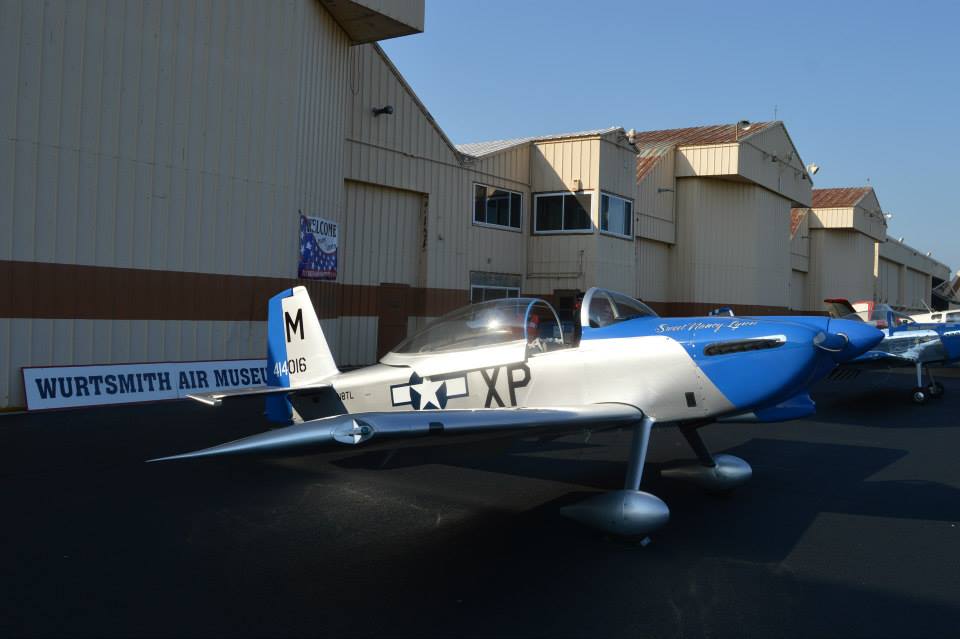 WURTSMITH AIR MUSEUM
Oscoda-Wurtsmith Airport is host to 3 hangers of aeronautic history for visitors to enjoy. The Museum contains artifacts and memorabilia of the military and displays of several aircraft, including a UH-1H (Huey) Helicopter, a T-33 Jet Trainer and several civilian General Aviation aircraft.
The Museum gift shop offers aviation related books, posters, models, and many other souvenirs.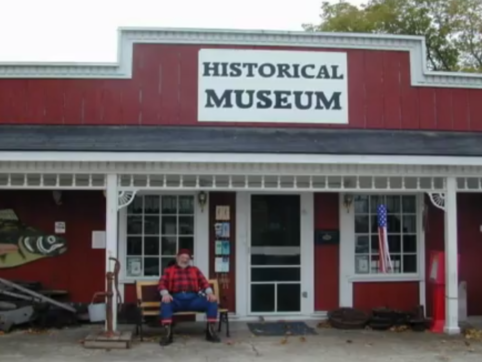 OSCODA HISTORICAL MUSEUM
Museum exhibits include: Indian artifacts, commercial fishing, shipping, ship wrecks, logging, Paul Bunyan legend, railroads, lighthouses, the AuSable River and its dams, details of the fire of 1911, and Wurtsmith Air Force Base.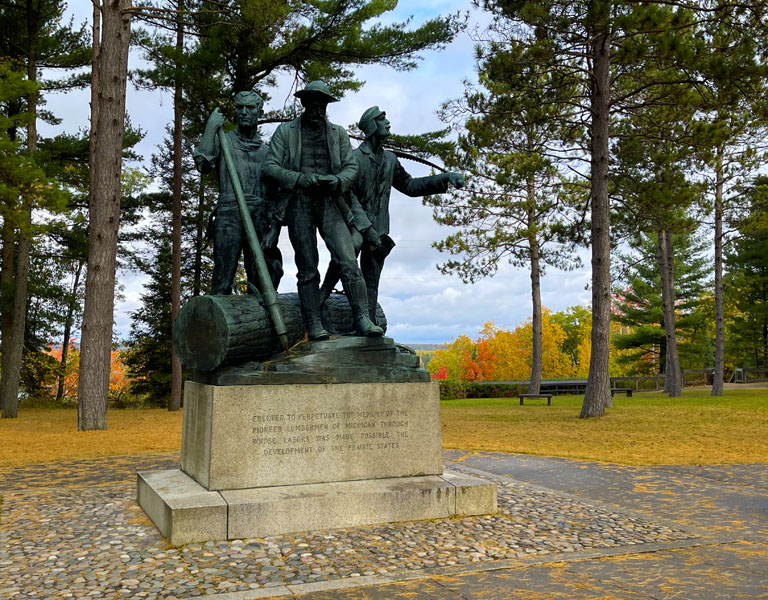 LUMBERMAN'S MONUMENT
Lumberman's Monument is dedicated to the workers of Michigan's early logging industry. Standing at 14 feet, the bronze statue features a log surrounded by three figures: a timber cruiser holding a compass, a sawyer with his saw slung over his shoulder, and a river rat resting his peavey on the ground.
At the Visitor's Center you can climb through a log jam, use a peavey, cut a wooden cookie with a cross-cut saw, and learn about the life of a lumberjack. Hike the stairway down to the wanigan, a loggers floating kitchen, or take the short trail to the dune observation deck.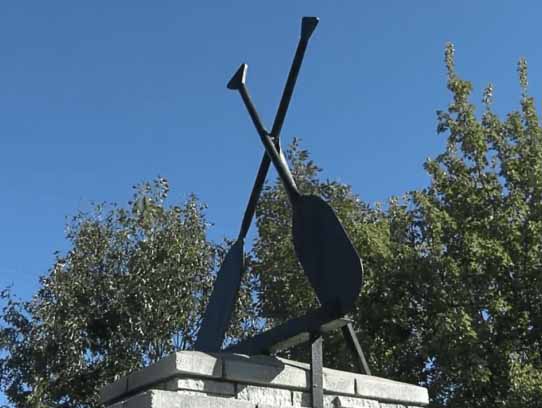 MCRA CANOER'S MEMORIAL MONUMENT
Canoer's Memorial honors those that have paddled and those that continue to paddle these flowing waters. This monument was erected to honor the members of the Michigan Canoe Racing Association and is sited on a scenic overlook adjacent to the AuSable River. Access to Highbanks Trail during summer months is available from this site.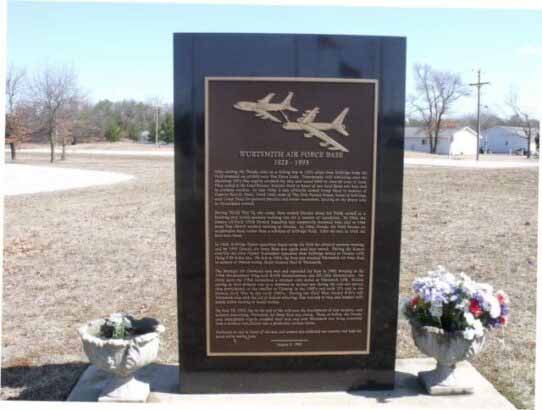 VETERAN'S MEMORIAL
Located on the corner of Skeel Avenue and F-41, the Veteran Memorial Park was established on Veteran's Day November 11, 2006 and consists of 6 acres under continuing development.
The Circle of Flags, which includes the 54 United States and territorial flags is impressive to behold. General information, past events, accomplishments, current activities, development plans and upcoming events may be sought by calling 989.739.8152 for further information.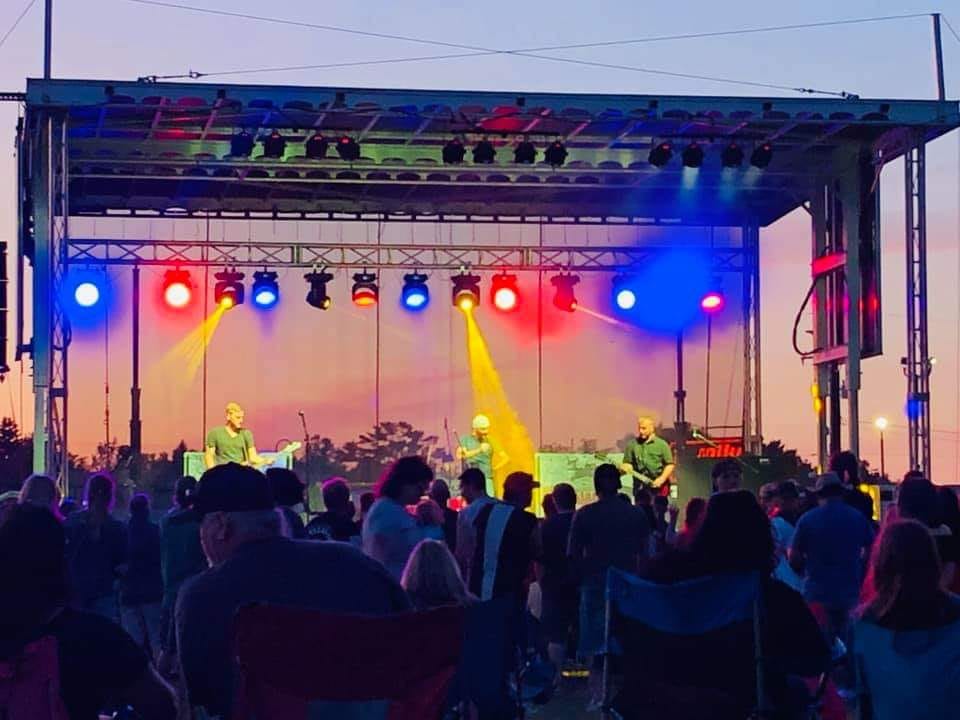 OSCODA ROCKFEST
Held the first weekend in August each year, Oscoda Rockfest has become a popular summer attraction for both local and visiting music lovers. Beginning in 2019, a few folks in Oscoda collaborated on the idea of putting on a rock concert and were able to coordinate a rock show at Furtaw Field featuring 8 incredible Michigan based bands.
This annual event has grown to a 2-day event and attracts well-known regional and national bands to its stage. Proceeds to go the Veteran Memorial Park Fund that has been adding amazing features on the old Wurtsmith Air Force Base.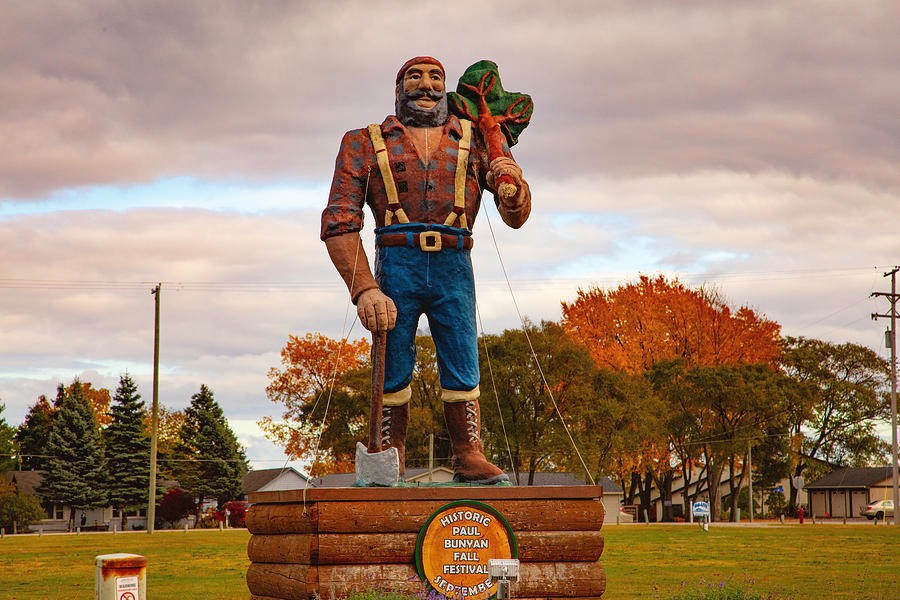 PAUL BUNYAN DAYS ANNUAL FESTIVAL
Because of Oscoda's rich history in the lumber industry, each year, the Paul Bunyan Days Festival is held in honor of the legendary lumberjack of the Midwest, Paul Bunyan. Held at Furtaw Field each year on the third weekend in September, the festival features a full weekend of chainsaw carving, fun games, music, crafters and demonstrations, an auction, and great food.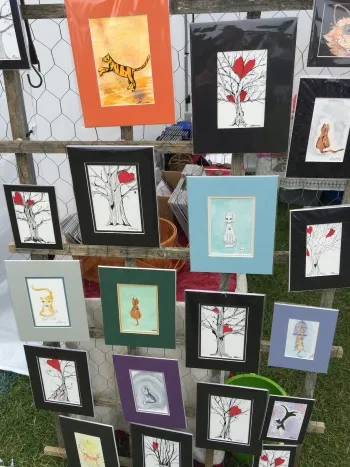 ART ON THE BEACH
This exciting show has been a favorite for over thirty-five (35) years!  This year, the show will be held on the last full weekend in June.  The hours are on Saturday from 9 a.m. to 5 p.m. and on Sunday from 10 a.m. to 4 p.m.  Artists from across the area display and sell their handmade arts, crafts and hobbies.  Only original artwork and items are featured – no resale.  "Art on the Beach" is held at the Oscoda Beach Park and on Lake Street, one block west of U.S. Highway 23, between River Road and Michigan Avenue.
Your Next Vacation Begins Here