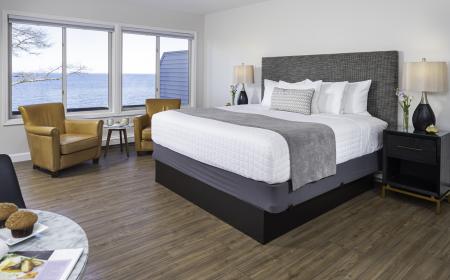 Huron House Luxury Bed & Breakfast
Glorious sunrises, romantic moonrises over the beach, majestic Great Lakes freighters passing in the night and your private hot tub under the stars provide the perfect setting for an intimate and restful getaway. The Huron House, an award winning luxury bed and breakfast, is located on a beautiful stretch of Lake Huron beach between Tawas and Oscoda.
Privacy and individual attention make the Huron House the perfect place for a honeymoon, anniversary, birthday, quiet getaway or other special occasion.
During your stay at the Huron House, you will experience spectacular views of Lake Huron coupled with exceptional amenities.  The Huron House offers guests an upscale bed and breakfast experience with a luxury atmosphere.  Guests at the Huron House can customize their stay to include in-room massage packages. The Huron House is ideal for those who like to experience a quiet, adult romantic getaway.  During your stay, you will be pampered with a signature breakfast delivered to your elegant king size room.
Come and find out why the Huron House is the most talked about bed and breakfast in Michigan. We extend our personal invitation to visit the Huron House to relax and refresh your spirit.
Under the Radar Visits the Huron House Bed & Breakfast
Air Conditioning 
Breakfast & Dessert Served Daily
In Room Massage Available
Huron House Bed & Breakfast