The Red Fork is a runaway success in Greenbush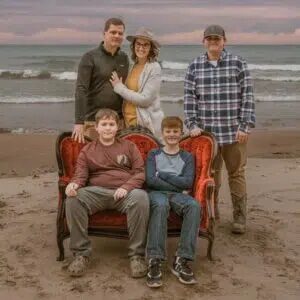 Kari Vanderheuel, owner of The Red Fork in Greenbush, poses for a photo with her family.
by Cassandra Lybrink
In a modest building off U.S.-23 in Greenbush, Kari Vanderheuel is fulfilling big dreams.
Kari has spent much of her life in the restaurant industry.
"My parents own a restaurant up in Rogers City, and we've been in business for the last 12 years," she said. "I slowly went from waitressing to pretty much running it. I started doing the back of the house and things just progressed."
When Kari and her then-boyfriend, now-husband, decided to move in together in Harrisville, she knew she needed a job.
"I realized I didn't think I could ever work for anyone else," she said. "We were in another restaurant, and someone said The Red Rooster was for sale. I had my stepdad look with me, and I knew that was it."
Kari purchased the restaurant in September 2020 and began remodeling. The business reopened under a new name — The Red Fork — in December 2020 for takeout orders. A few months later, customers were able to dine inside.
"It's just been a whirlwind," Kari said.
The name change comes from an old folktale about a conversation between a woman with a terminal illness and her pastor, who wanted to discuss her final wishes. Among other things, she told him she wanted to be buried with a fork in her hand.
The woman said, in all her years of attending church socials and potlucks, she always remembered when the main course was cleared, someone would inevitably instruct her to keep her fork. That moment was her favorite, because it meant something even better was coming.
"That was with me," Kari said. "Through my divorce and everything else. I knew there was better coming. And when I bought the place, people didn't want me to change the name, because The Red Rooster had been around for so long. But I didn't want everyone to expect the same thing. I wanted my own thing, too."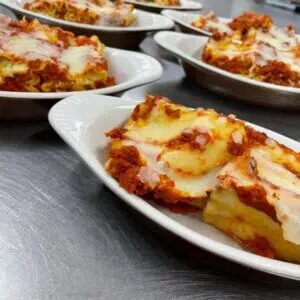 Food at The Red Fork is classified as "upscale comfort style" with breakfast specials on Sundays.
The Red Rooster began as a small mom-and-pop diner, Kari said, in a duplex with a handful of tables. The current building was constructed in 1976. Kari recognizes the history, but has also brought dishes from her parents' restaurant in Rogers City. She classifies her menu as upscale comfort food, with ribs, fish and chips, burgers and salads with fresh produce. 
"It's been absolutely amazing," she said of the community support since opening last year. "The locals are wonderful and super, super supportive. I was really sad when I first left Rogers City because those people were like my extended family. But now, this is becoming my family. The customers come in, and I absolutely love them, and I know I'm where I'm supposed to be."
The Red Fork is open Wednesdays-Sundays at 3228 U.S. Highway 23. To learn more, visit facebook.com/theredfork.greenbush.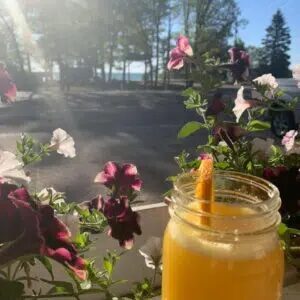 The view from The Red Fork is often fantastic. The restaurant was once The Red Rooster.