Taking a Road-Trip Down U.S.23 in Oscoda
Eager to hit all the big spots during your visit to Oscoda this year? We've compiled a seven-stop road trip down U.S.-23 — Oscoda's main thoroughfare — that'll round-up some of the best experiences in the area.
Stop #1: The mouth of the AuSable River near AuSable Shoreline Park at 4122 N. Huron Road, just off U.S.-23. According to local and impromptu tour guide Shannone Bondie: "You can walk out to the end of the breakwall. (It's) a great place to catch the sunrise or try your luck at early morning fishing."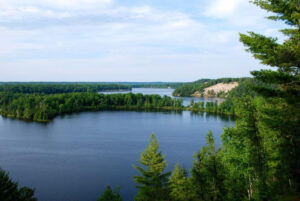 Stop #2: Mama's Country Kitchen, again just off U.S.-23 at 884 S. State St. Mama's is a local favorite, particularly for breakfast, with omelets, pancakes and other items fresh off the griddle.
Stop #3: Iargo Springs and Lumberman's Monument at 5401 Monument Road. "Doing all those stairs will work up an appetite," says Shannone. "So, you'll go to Hilltop Bar and have some of their Detroit-style Coney Dogs." You'll find Hilltop Bar at 431 W. Mill St.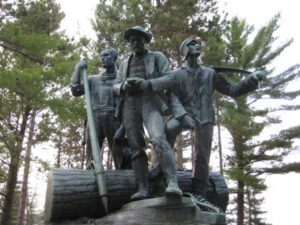 Stop #4: Oscoda Canoe Rental at 678 W. River Road. Rent a canoe for a two or four-hour ride on the gorgeous AuSable. 
Stop #5: Cathy's Hallmark Store at 123 S. State St. "No trip to Oscoda is complete without visiting the newly expanded Cathy's Hallmark or the eclectic To the Moon and Back," says Shannone. Other downtown shops are within walking distance, giving you a chance to shop for souvenirs and gifts after all the hiking, rowing, fishing and eating.
Stop #6: Oscoda Rotary Pocket Park at 110 E. Dwight Ave. Admire the flowers and grab an ice cream cone from Parkside Dairy. "Oscoda Beach is just two blocks away," says Shannone. "So, I'd stroll on the beach while enjoying your ice cream."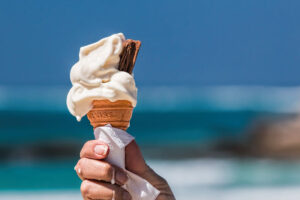 Stop #7: Wiltse's Brew Pub at 5606 F41. Time for dinner after a long day. For dessert, Shannone suggests the homemade carrot cake.