In all four seasons of the year, our region welcomes explorers to get outdoors to enjoy some fresh air and discover the rugged natural wonders northern Michigan is known for. With more than 35,000 acres of natural area, hikers, bikers, and ORV riders can experience abundant natural treasures on the trails stretching into every corner of our county.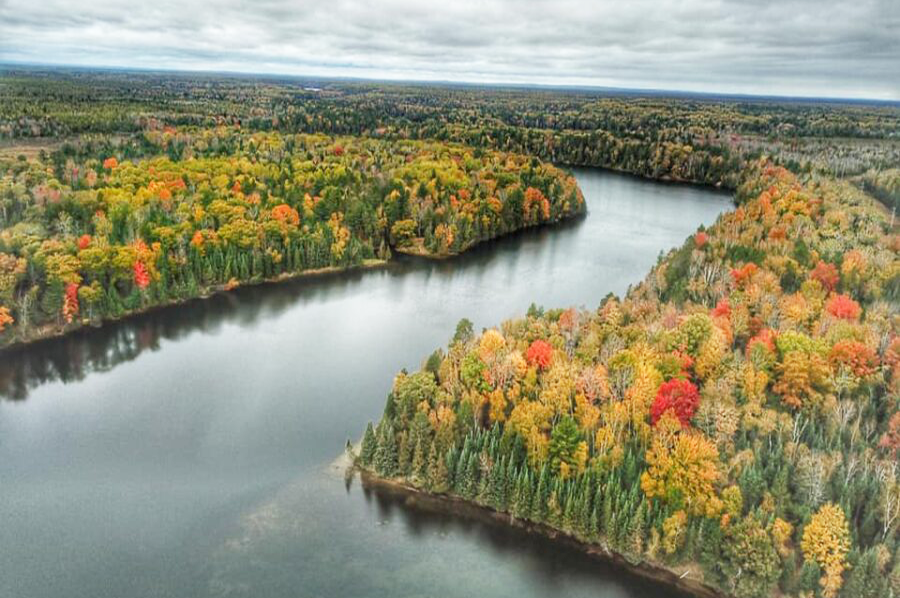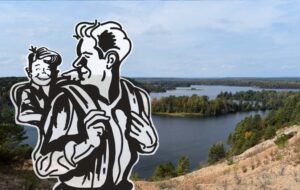 Iosco Exploration Trail
The Iosco Exploration Trail (IET) is a 44-mile trail project planned to span across Iosco County as an extension of Michigan's Iron Belle Trail. The Iron Belle Trail is a 2,000 mile trail system spanning from Belle Isle Park in Detroit to Ironwood in the Upper Peninsula and is the longest state designated hiking & biking trail in the country.
Currently, there are three of eight phases completed in our region. Phase 1 is a 2.73 mile portion from AuSable to Oscoda, Mill St to River Rd, and out to Oscoda High School. Loon Lake Trail in Hale, MI (phase 2), was completed in 2019 and is 1.9 miles long traveling from Loon Lake Park to Kokosing Road. Phase 3 construction, starting at the Oscoda High School and traveling down River Rd to Old Orchard Park was paved during the summer months of 2023.
The first phases of this project have proven to be very positive additions to our county, welcoming foot and bike traffic year-round. On your next visit, take some time to follow this trail along some of the most scenic areas of our region.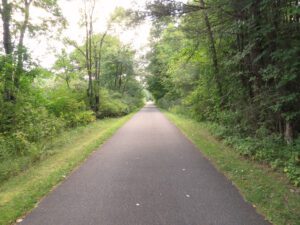 Lumberman's Monument Visitor's Center
Along the River Road National Scenic Byway, you will find Lumberman's Monument Visitor Center which welcomes visitors to our area to discover our rich lumbering history in one of the most stunningly beautiful areas in the county. A 14-foot Lumberman's Monument stands on a high bank over the Au Sable River providing a natural backdrop.
At the Visitor's Center, you can learn about the industry that was central to the development of northern Michigan and the lumbermen that helped build a nation. Climb through a log jam, use a peavey, cut a wooden cookie with a cross-cut saw, and learn about the life of a lumberjack through video and displays. Hike the stairway down to the wanigan, a logger's floating kitchen, or take the short trail to the dune observation deck.
Lumberman's Monument is a not-to-be-missed destination for anyone visiting the area. No matter the time of year you find yourself in our neck of the woods, be sure to make the trip along River Road to this Oscoda hot spot.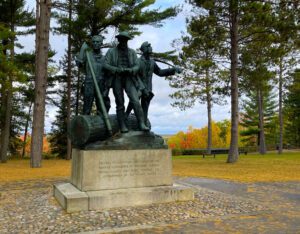 A Facelift for Iargo Springs
Iargo Springs, a popular spot for visitors located west of Oscoda, will be undergoing a renovation, which will require the site to be closed for the entire 2024 recreation season.
Approximately 18,000 square feet of boardwalk, stairs and viewing decks will be replaced at this popular destination for area explorers, and a return loop trail system will be added. New interpretive signs, benches, picnic tables, vault toilets and trash receptacles will be installed; and trees will be removed to improve the views of Cooke Pond from the newly reconditioned overlook.
Although it is unfortunate that this site will be closed to visitors for the 2024 season, we feel the improvements will greatly enhance the experience for visitors and will help to protect the ecological assets of this site well into the future.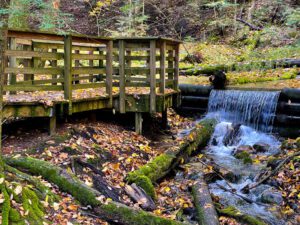 Start planning your next visit to our region to explore and discover everything that makes our region a unique destination for the perfect Up North adventure!