SunnyBunns has offered lakeshore fun, thrills for decades
It's been nearly three decades since Tim Kellstrom first got involved in boat rentals in Oscoda.
"When I was 17 years old, I moved up here from Ft. Wayne, Indiana," Kellstrom, longtime owner of jet ski and pontoon rental business SunnyBunns, said. "My grandparents owned a motel, and there was a gentleman renting jet skis. That was for a year, and then I took over with my parents. They were involved for another year, and then it was just me."
About seven years later, Kellstrom expanded — purchasing SunnyBunns in East Tawas.
"They'd started the business in 1986," he said. "They owned a Yamaha dealer and they were approached by the Holiday Inn (now Tawas Bay Beach Resort) to rent jet skis. I approached them in 1999 to purchase the business. I think it's safe to say SunnyBunns is the longest running jet ski rental in the state of Michigan."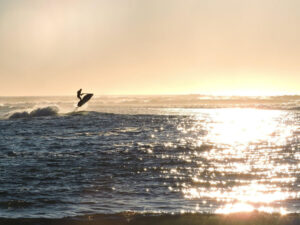 Once he bought SunnyBunns, Kellstrom changed his business name in Oscoda to match. Today, the business has locations at Tawas Bay Beach Resort, Lake Huron Resort and Old Orchard Campground, where Kellstrom has pontoon rentals.
"This is my 29th year," he said. "We've seen a lot. We've seen the summers where it rains, we've seen summers with droughts. I think the biggest thing I've seen is the shoreline. I remember about 10 years ago, everyone was worried Lake Huron was drying up.
"They said the Canadians must be sucking the water out, or there were holes in the Detroit River. But then you fast-forward to last year and it was epic, the water came up so much. It destroyed properties, people built seawalls."
The other big trend, Kellstrom said, is the growth and strength of Oscoda.
"I've seen it since a year after the base closed, when Oscoda was a down community," he said. "It was hurting for confidence, it was hurting economically. Everything changed when you took away all those people who lived here, and a lot of other people went with it. 
"But since then, I've watched this little community build strong, build slowly, build right. I've seen confidence in business owners in our area, and it's something I'm very grateful to be a small part of."
Learn more about renting jet skis and pontoons from SunnyBunns at sunnybunns.com.