As the days grow shorter and the temperatures begin to drop, fall arrives in Oscoda. This time of the year we begin to see the first glimpses of fall color peeking through the trees, and we start to crave the flavors of fall, a cozy lodge, and evenings by a crackling fire. Oscoda is your perfect destination for a relaxing fall getaway to reconnect with nature, whether you enjoy casting a line in the river, taking to the trails, or just enjoying a leisurely drive to take in the change of the season.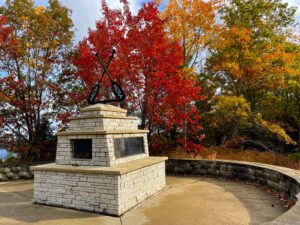 Fall Color Tour
The fall season is never complete without a fall color tour and Oscoda has you covered. We are just beginning to see the first peeks of color, but know they are true signs that fall has arrived. Peak color is often seen early through mid-October in our region.
Following River Road from downtown Oscoda west toward the Huron National Forest, you will witness bright reds, oranges, and golds contrast against a deep green backdrop. Along the way, you won't want to miss the most scenic picture spots on the trails of our region: Foote Pond Overlook, Lumberman's Monument Visitor's Center, and Iargo Springs. Each provide a unique perspective of the beauty of the Oscoda area.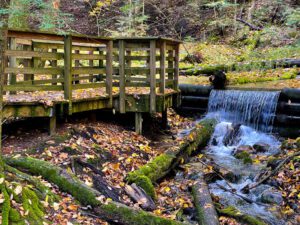 On your way back, you might even take a ride on the iconic AuSable River Queen paddle boat for a view of the fall season splendor from the water. Heading back into town, make your way to the AuSable Inn Riverview Restaurant and Sports Bar, where you can enjoy a fresh catch, mouth-watering steak, or just appetizers and cocktails. It is the perfect place to end a day of fall fun in Oscoda.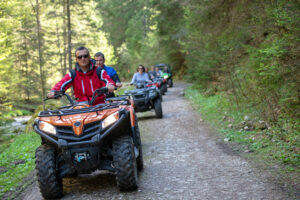 ORV Trails
Maybe you are seeking trails of another sort? Maybe some faster paced fun? Oscoda has those too, providing access to ATV trails that connect you to all points north. Our new ATV trail maps of the Oscoda Area and the Mio Area will help you plan your trip, outlining the trails and road where ATVs are welcome. Load up the trailer, grab your friends, and head our way. Oscoda is the eastern gateway to your next northern Michigan trail adventure.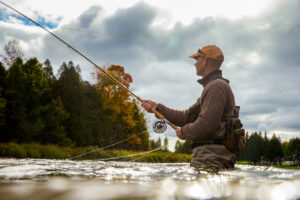 Fall Fishing on the AuSable
The majestic AuSable River invites you to try your hand at fly fishing and welcomes back the avid anglers that flock to our region for one of the best fishing seasons of the year. Following the riverbanks of the world-class AuSable River, you will find many spots to cast a line for trout, salmon, walleye, and perch.
Our new AuSable River map outlines fishing access spots, boat launches, and campsites to stay along the way. Let Oscoda be your next destination for a fall fishing adventure to remember.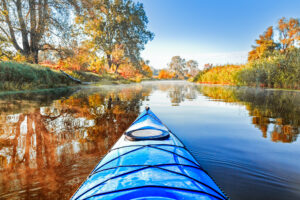 Start Planning Your Color Tour
Now is the time to plan your fall excursion. Pick your spot, invite a friend, and head to Oscoda to make memories during the spectacular fall season.