The sun shimmers across the water, you are reclined in the sand reading a book, a cool drink in your hand, waves rhythmically lap against the shoreline, while carefree hours of summer sun are stretched out before you. Can you just imagine it? There's nothing like disconnecting for a few days to relax on Lake Huron beaches. There's still time for sun and fun! We've got some great ideas to make your Oscoda getaway memorable.
Best Way to Start Your Day
On the Sunrise Side we rise early to catch the sun as it crests over the horizon line. Make this the perfect way to start your day, by stopping in for your favorite hot or cold beverage and a little something savory or sweet at the Sunrise Kava Café, located just a short walk from Oscoda Beach Park. Next stroll over to the Lake Huron Pier to snap an iconic sunrise selfie at one of Oscoda's most picturesque spots.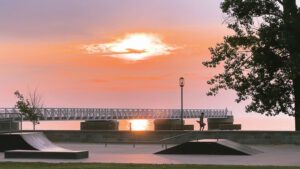 Off to the Beach!
You are already at Oscoda Beach Park, so take a look around to see what we have to offer at this popular beach destination. Stroll the sandy beach, fish off of the pier, enjoy a picnic, or cool off on the splash-pad. Wednesday evenings throughout the summer months we gather at the beach for free Summer Movie Series and Thursday nights the band shell features free concerts.  No wonder this is a favorite spot, there is really something for everyone!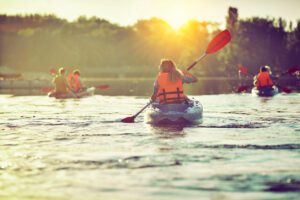 Paddle the Day Away
The mighty AuSable River flows through our county before spilling into Lake Huron. Located just west of town, Oscoda Canoe Rental invites you to take to the water and paddle your day away on one of Michigan's most scenic waterways. They have everything you will need to outfit an epic canoe or kayak adventure.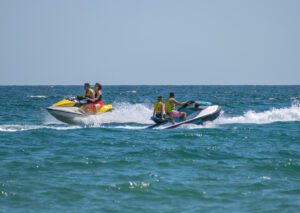 Big Water Adventure
Maybe you enjoy more fast paced fun on the water? Take to the lakes on a waverunner or stroll a pontoon on Foote pond or one of the inner lakes with SunnyBunns. Their full-service boat rentals make your day on the lake super easy and simply fun. Plan ahead to reserve the watercraft of your choice and when you arrive, they will handle all the rest.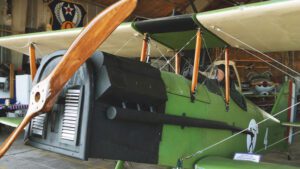 Explore Wurtsmith Air Museum
The essence of Oscoda extends beyond its natural beauty to its historic past. The Wurtsmith Air Museum, located on the retired Wurtsmith Air Force Base, preserves Oscoda's unique military history with 3 full hangers of aircraft displays, aviation artifacts, and memorabilia from the retired base. Universally accessible, this museum welcomes visitors of all ages to step back in time and honor those that have served our great state.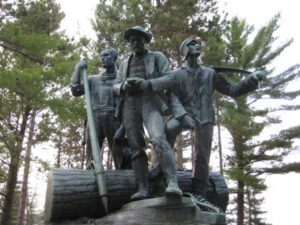 Follow the Trail to Lumberman's Monument
Perhaps you are ready for a walk in the woods? Get off the grid for an afternoon following the Highbanks Trail, a 7-mile point-to-point, non-motorized trail that follows the banks of the AuSable River. A perfect spot to start your exploration is Iargo Springs where you will find picturesque viewing decks and a boardwalk through natural springs. Continuing on the trail, make your next stop the Canoer's Memorial at the scenic overlook of the AuSable, a not-to-miss picture spot. Your next destination is Lumberman's Monument Visitor's Center, home to a 14-foot bronze monument to Michigan's early logging industry. This is a favorite destination for explorers of every ability and a great spot to visit even if you aren't up for a long hike.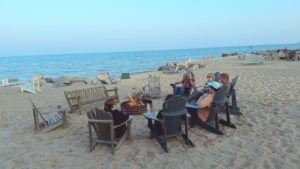 Beach Bonfire
We just can't think of a better way to end the day than cozying up to a bonfire on the beach with friends, sharing stories of our daily adventures. Along the Lake Huron shoreline you will find locally owned cabins, motel and hotel properties located right on the beach. A familiar feature at these resorts will be a beach bonfire. So, find your spot, stock up on s'more fixings, and head to the lakeshore to make great summertime memories around the bonfire.