I've lived in a few different cities throughout Michigan. Each has its own quirks and its own charm. But when I want a city with personality, a place with a community that cares, a beautiful lake-side town with beaches and trails and history, I come to Oscoda.
For the moment, I'm stuck downstate. The pandemic and my full-time job take precedent. But there's a lot I'm looking forward to when I get the chance to head back up north.
Now that we're smack dab in the middle of winter, I'm always wanting to eat foods that will warm me up. Some days I wake up craving a plate of corned beef hash from Wiltse's. My ideal day in meals would be a greasy, warm, hearty plate of Wiltse's corned beef hash for breakfast, a fresh Asian chicken salad from The Office on Dwight Street, and a large helping of gang ped and fried rice from Chee Peng.
Once spring rolls around, beautiful flowers will line US 23 in downtown Oscoda. I'll wander down the lanes and take in the views of Lake Huron from every side street.
While wandering, I'll stop by shops both familiar and new. I'm especially excited about To the Moon and Back, a retail shop that will be selling the wares of local artists. Paintings, jewelry, blown glass: it's gearing up to be something fantastic, and I always love finding ways to support local.
With the changing of the seasons, much of the wildlife changes too. Seeing bald eagles in Oscoda is pretty cool, but the bird I'm really itching to see again is the sandpiper. Their adorable tiny-stepped runs across the sand, their wild swooping arcs as they fly across the waves of Lake Huron, I miss it all. There's also the cormorants, and the turtles, and the frogs, and the herons…and basically everything else that you can see on the beaches, in the parks, and on the trails.
And speaking of trails…
I'm a creature of habit. I return to places I'm familiar with. There are certain hiking trails and overlooks in and around Oscoda that I go back to again and again. I will of course be visiting them again, but I'm also excited to expand my horizons and explore other paths. No two trails are the same, after all. Just last month, before the skiing season but after the first snowfall, my family and I visited Corsair for the first time and it was a magical experience.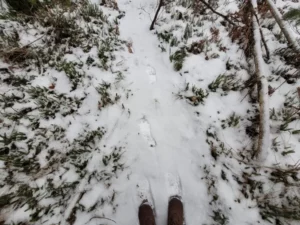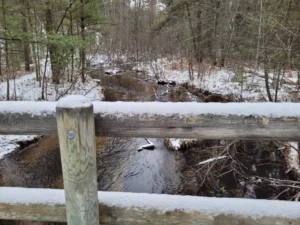 And then there's summer. I've already laid out my perfect day in meals, but what would my perfect day in summer fun look like? If I woke up early enough, going out to the beach wrapped in a blanket and watching the sun rise over the Lake. Then, tubing lazily down the Au Sable with family and friends. After that, a walk on the beach, building a sandcastle, walking down the Pier, and watching a movie while the sun sets behind us. Finally, walking down a block to get some ice cream before heading back home.
There's the everyday summer stuff, and then there are the summer events. A lot of events all over the country were cancelled or postponed in 2020 due to the pandemic, but the cancellation that saddened me the most was the second annual Rockfest. When I learned the Rockfest is back on for 2021, I immediately ran to put it on my calendar and whooped for joy. The inaugural Rockfest had a fantastic lineup and great food, and 2021's sequel aims to top it.
Then comes fall, and the streets and rivers are surrounded by colorful foliage. I'll spend an entire day, or maybe an entire week, visiting all the trails and overlooks again to catch the views.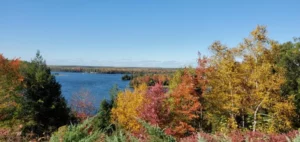 I know there will be even more reasons for me to travel to Oscoda in 2021, reasons I'm not even aware of yet. What are you most looking forward to?